As a child, I liked to listen to my Chinna (grandfather in Haida), tell stories because it fed my lively imagination. He told stories of a half-human, half-land otter creature, and of mysterious transformations of animals who might be human, and humans who might be animals. My Chinna (Louis Lear Jones) lived a full life and witnessed many changes. He was raised in a traditional Haida longhouse in "Old" Kasaan, attended Wrangell Training Institute where he studied both carpentry and trumpet playing. He married my grandmother in one of the last arranged Haida marriages, built his sons seining boats, and lived long enough to listen to the first man walk upon the moon in our living room on the radio. He died peacefully in his own home in "New" Kasaan at 92.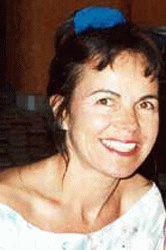 Jeane Breinig

I was only twelve at the time, and in some ways, I feel like he was gone before I could appreciate the significance of his life and the rich traditions I am fortunate to have inherited. Still, I am comforted with the realization that while I may have lost my Chinna, I have never lost one of his best gifts to me -- the love of a good story.

Reading became a passion for me after we moved from Kasaan to Ketchikan, where I started elementary school. I could hardly wait to learn to read. My sister Della, five years older than me, and two brothers, Chris and Brian, 9 and 11 years older, were already expert readers. Since we didn't have a telephone or television, and we lived twelve miles from town and had few neighbors, the house would get quiet at night with everyone spread out around our wood stove, engrossed in their favorite reading material.

My Chinna lived with us in the winters, and he liked to read Reader's Digest and the Bible. My dad and mom both enjoyed reading novels, and my brothers and sisters were at the age where their favorites changed with regularity. Everyone could read but me, and I remember feeling left out, jealous and eager to get to school to unravel the secrets of those mysterious black squiggles on the pages. My mother did her part too, to feed the flame. I remember being sick for a week or so, and she would lay down beside me and read one chapter each day of a Nancy Drew mystery novel, stretching out the suspense. I begged for more, but she held her ground with, "You'll just have
hurry up and learn to read." And I did.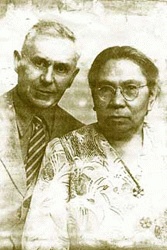 Louis Lear Jones and Anna Frank Jones

As a family we made weekly trips to the library. Children were only allowed to check out four books at a time, and I chafed at the policy -- four was not always enough to last the week. Mysteries and fantasies were my favorites for years; perhaps this was my way of holding onto the kinds of stories I most enjoyed hearing my Chinna tell. A love of reading led to a love of writing. I was sure I could make up stories as good as the ones I read. In second grade, I remember getting in trouble from my teacher when she found out I was writing and illustrating my own version of the Bible.

Because there were few children my age to play with who lived near our home "out the road," from Ketchikan, I developed a rich imagination. My stories were plays. I acted imaginary scenes, played all the parts, and spoke the dialogue for each "character." I remember day dreaming about writing. And I remember when I was five telling anyone who listened, "When I grow up I am going to be a writer, and someday I'm going to write a book." Little did I know then my first real book would be a doctoral dissertation for a Ph.D. focusing on Haida stories. So, in some sense, the Haida storytelling tradition of my youth has come full-circle, and I have managed to keep a small part of my Chinna with me through the teaching and writing I now do as a college professor.

The more important teaching and writing, however, has been accomplished by my mother, Julie Coburn. As she approaches her 80th birthday, I realize how lucky I am to still have her around. She is an inspiration to me, and I only hope that I have as much energy, enthusiasm, and love in my heart when I reach her age.

She was born in Kasaan in the early 1920s and lived most all of her growing up years there, participating in the traditional food gathering activities of the area. This included berry-picking, smoking salmon, drying halibut, clam-digging, and seaweed gathering and drying. She had just missed the time of overt Haida language suppression when others of an earlier generation were physically punished for speaking Native languages. Instead, her mother, my grandmother -- Anna Frank Jones -- spoke fluent Haida, yet recognized the economic necessity of learning English. She spoke to the family in Haida, but asked that they reply in English, so she would learn the new language herself. My mother grew up always understanding Haida, but not speaking much of it on a daily basis. She eventually went away to Sheldon Jackson Presbyterian mission boarding school for high school and then later to Haskell Indian College for secretarial training prior to marrying my dad, Perry Coburn, during World War II.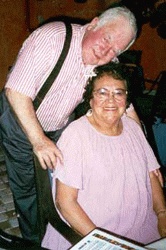 Perry and Julie Coburn

Many years later in the 1970s, she made a conscious effort to relearn her language and to use it every day of her life. During this time, The Haida Society for the Preservation of Haida Language and Literature was formed because of a great concern for perpetuating the language, which many recognized was no longer being learned as a first language, along with the painful recognition that a unique way of life was slipping away. As the children were now being educated in Western institutions, the people wanted to make sure the value of Haida language and traditions was not forgotten. The members of the Society began to document, through writing, cultural traditions and oral histories for future generations.

The Haida elders of that time -- people like Erma Lawrence, Nora and Robert Cogo, Selina Peratovich, Christine Edenso, Jessie Natkong, Clara Natkong, Nelson Frank, Alice and Louis Kitkoon, Walter Young, Phyllis Almquist, and Lydia Charles -- worked with linguists at the University of Alaska Fairbanks to develop a standard writing system to enable them to write down their oral traditions. From this, the first Alaska Haida texts came into print and the more fluent speakers began to teach the language to those who wanted to learn. My mother was one of these people, and she so heightened her Haida language skills, she was then able to teach others.

In fact, a few years back, she came to Anchorage and taught a small Haida language class at UAA which was well-attended by 20 students. Most were Haida, hungry to learn something of the language and oral traditions, but some were non-Native too, just interested in learning about us.

In addition to her love of teaching the Haida language and oral traditions, she also enjoys writing in English. While I was in graduate school, she decided to write out various pieces of family history, genealogy, reminiscences of growing up Haida in Kasaan, and stories she remembered hearing. She said she wanted to leave something for her "children, grandchildren, and great-great grandchildren, so they would know something about who they are and where they come from." She hand wrote the pieces -- nearly 40 pages in all -- and I typed them up for her. I continue to encourage her to write. She has a wealth of knowledge and many more stories to share.

Her commitment to pass on what she knows through writing is a blessing, one that I've been fortunate to take part in. Like my Chinna, my mother's gift to me is also a love of a good story but now expanded by the legacy of her writing. In the Haida way, gifts are to be enjoyed -- but to truly enjoy their full blessing you must then find a way to give more than you have received. The circle continually expands.