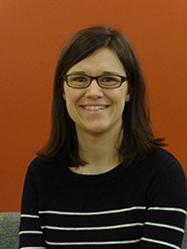 Alyse Knorr
Introduction
Where can your stories go when you radically alter their form? That's the challenge I pose to my first-year composition students each semester at the University of Alaska Anchorage, through an assignment called the Radical Revision. I have Wendy Bishop to thank for this assignment-I took it straight from the pages of her essay, "Contracts, Radical Revision, Portfolios, and the Risks of Writing," published in Power and Identity in the Creative Writing Classroom in 2005. I've been using some form of the radical revision in my composition courses for the last five years, and it's never steered me wrong.
The basic premise of the assignment, which is always the last one of the semester, is this: take a piece of your writing from this class and radically revise it into a new medium and genre while tailoring it to the needs of a specific audience and purpose. Then write a short reflection statement about why you made the choices you did.
For the past five years, I've seen my students transform their writing into drawings, websites, posters, lesson plans, TED talks, comic books, short films, instructional videos, public service announcements, songs, children's books, pamphlets, video games, scripts, protests, letter campaigns, newspaper articles, grassroots organizations, poems, short stories, and products like T-shirts or handbags. My students have performed, published, and publicly shared their work and received positive responses and even job offers from community leaders who see their talents brought to life. The best part of all is: the students become empowered as experts and as authors, using their full creativity and unique perspectives to engage vigorously with topics they're passionate about.
In terms of learning outcomes, this assignment fulfills several: first, it challenges students to consider rhetoric in action, in a real-world rhetorical situation, as they make tough choices about what purpose to seek to achieve and why, which audience to target to achieve that purpose, which medium and genre to utilize to best reach that audience, and what design and composing decisions to make to best achieve their purpose.
This is quite a challenge, and it makes the radical revision a pretty tough assignment. The total openness and freedom allowed students in their selection of medium, genre, purpose, and audience is often unsettling to them at first-they're used to papers with strict prompts, page counts, and formatting guidelines. I tell my students that this openness is purposeful-that it's the culmination of all their semester's work, and meant to challenge them. I tell them, as a former teacher of my own once told me, that they've moved from the petting zoo, where most of their rhetorical decisions were made for them by the assignment prompt itself, to the free-range safari, where they call all the shots. At the same time, I also give them a rubric, a wealth of former student examples from many different media, a set of in-class guided exercises and peer reviews, and ample one-on-one feedback from me so that they aren't on that safari all alone.
On the final day of class, as the students proudly present their projects to one another and celebrate their hard work, the change in their confidence level is apparent. "Professor, what are you looking for in this project?" has turned to "I called my campaign 'You call the shots' because I wanted to appeal to my audience of middle-class parents, and I addressed the autism vaccine myth right away because I know it's what most of my audience is concerned about." "How long should I make it?" has turned to "I noticed that most public service announcement videos are under two minutes long, so I made mine a minute and thirty seconds long."
Second, this assignment gives students an opportunity to compose multimodal texts common in 21st-century communication, using cutting edge tools and technologies that often bring with them their own rhetorics and their own set of genre considerations. Throughout the semester, we discuss the terms "writing," "composing," "author," and "text," and discuss how this applies to multimodal texts-whether making a video or a poster or a video game counts as "writing." The radical revision assignment brings this discussion full circle, as students discuss the ways their writing process changes when they switch from a written medium to a multimodal medium like video or web design. Students learn more about their own writing by trying out a new medium and considering how the tools we use to tell a story impact the story itself when a text is "translated" for new purposes.
Finally, since most of my students choose to radically revise their third paper-a 1,500-word researched argument about a problem affecting their community-the radical revision usually takes on a civic engagement component, which shows students firsthand how their writing and research can effect real change. Students see that writing doesn't stop with writing, and that a research project or a narrative, with bold creativity and strategic rhetorical awareness, can hold limitless potential, unrestricted by any one medium.
In the spring of 2015, several of my students responded to this assignment in particularly exciting ways, producing projects in media I'd never seen students use before. The first paper I assigned this semester was a literacy narrative, a 750-word personal essay about an important event related to language or literacy in the student's life. My student Olivia Fick wrote about the importance of video game literacy in her childhood, and Dane Panadero wrote about how learning a new language opened up his mind to new ways of thinking.
For her radical revision assignment at the end of the semester, Olivia, an aspiring artist, reinterpreted her literacy narrative in the form of a gallery exhibit opening, including three beautiful drawings, an artist's talk, a flyer advertising the opening, and even refreshments commonly served at art openings. Dane took his literacy narrative as inspiration to create a website promoting the learning of new languages and the exploration of new cultures. I am deeply proud of both of these students and thrilled to share their work with a wider audience.
Assignment Prompt
Requirements: For this fourth and final assignment, you will radically revise one of your three papers into a new, multimodal medium and genre. You will accompany your project with a 300-word written reflection on why you chose the medium you did, who your intended audience is, and what your intended purpose was. A "multimodal" text incorporates more than one "mode" of communication: for instance, pictures and music or written text and video.
Presentation: On exam day, we'll be sharing our projects with each other in an informal setting.
Ideas:
Youtube video
Comic book/graphic novel
"Ted Talk" style presentation
Blog and post(s)
Website
Podcast
Song
Play or TV show script
Product
Video game
App
Performance
Creative writing piece
Flyer or poster
Social media campaign
Anything else you can think of and get my approval on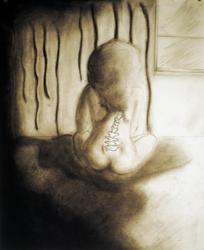 Injury
Galactic
Olivia Fick
Olivia's Reflection Statement:
Our literacy narratives were assigned to be completed in a creative fashion. No parenthetical citations, works cited pages, etc. In order to properly put our paper one into a multimodal assignment, I chose a small replication of an art gallery or an "artist's talk." I'm hardly prepared as an artist to hold my own gallery, or call the presentation one with any authority, however, I am basing the presentation off of how a gallery's artist talk is typically handled. My audience intended is college students, however, a variety of individuals go to art galleries, old and young. This is an easy and effective way to get all of my ideas out how I see fit, as well as easily target my audience. My purpose through my compositions is to showcase certain elements depicted throughout my literacy narrative titled, "Filtered Pool Water."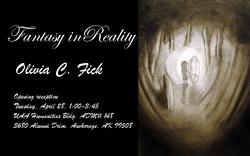 Gallery Flyer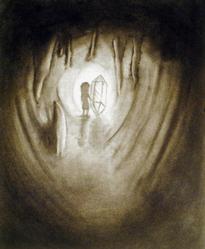 Crystal
The first piece, "Galactic," aims towards the creativity and the explosion of ideas that happened once I encountered video games. For the second piece, "Injury," I hoped to focus on the aspect of my back injury from when I was seven. Lastly, the third piece, titled "Crystal" focuses on a young woman who I considered a mentor and looked up to as a child. For a memento, included with the presentation is a "gallery flyer." The flyer holds value not only as a souvenir, but a way for an artist to get their name out, with a general synopsis of the "feeling" they are intending to portray from their gallery on the flyer, as well as the date, time, place, and title, of course. I intend to entertain my audience through an "artist talk," give an opportunity for them ask questions, and hopefully enjoy the experience.
Dane Panadero
http://akosibuja.wix.com/tongues
Dane's Reflection Statement:
My goal in making this website is to connect people to other people languages and culture. I wanted to make it as a non-classroom medium of learning (for people not to feel pressured of being graded) and I wanted it to be a site where people can socialize. I want people to learn language with not only verbs and conjugations of words but also idioms that differ in every culture or country. I also wanted my website to be an instrument for people who migrated from other countries to reconnect with their roots and culture (to maintain their identity that reflects with their root cultures).
From my paper one, I wrote about how language can be the same as a door that it can open a new different world that is why I choose to create a website because with the internet it can easily connects people from different countries. I also talk about how a language reflects the culture of people and the hardest part in coming to a new country is adjusting to the new profound culture. I want my website to be educational, that people will not only learn how to speak the language but know the people from the real person and not on how they are described or presented on books. In addition, participant for this website can give some tips and advice to people who are about to visit or live to a new place. The locals are the best people who can give tips for an outlander.
I wanted my website to be helpful to members of a military family, (especially the teen agers), who always changes places every few months. I targeted teens, specifically the one that is from the military family, because being in a different place every a few months can be hard for everyone, especially to a younger person; moving to a new place means finding new friends and adjusting to a different lifestyle or culture. The feeling of being an outsider can be difficult that is why user from website can be help people to get familiar of places that they will eventually visit. I created a website because teenagers are familiar with using the internet and I named my website www.materlinguae.com (mother tongue in Latin) cause is represent the main language of every people all over the world.