Photovoice is a method of community research and planning used around the world that combines photography and grassroots social action, typically with disenfranchised communities. In the Photovoice method, participants are first trained in the basics of photographic techniques and ethics and decide on a theme of importance to their lives or community that they wish to address. They then take photographs on this theme and the facilitator guides them in analyzing their photos, using the SHOWED method. SHOWED stands for:
"What do you See?"
"What is really Happening here?"
"How does this relate to Our lives?"
"Why does this problem, condition, or strength exist?""
"What can we Do about it?"

These questions help bring out issues and empower participants to see themselves as part of the solution.
The participants then choose which photos they want to display and how they want to tell the story of that photograph to the public. They also agree on their intended audience -- is there a certain policy-maker whose attention they need? Are these issues that the entire community needs to see? The facilitator helps participants plan their strategy for sharing their photographs publicly and works with participants on visual presentation and creating narratives to accompany the photographs.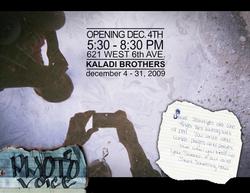 In this Photovoice project, photographer Oscar Avellaneda and social worker Laura Norton-Cruz worked with a dedicated group of six teenagers in the Mountain View neighborhood of Anchorage, Alaska, to help them document issues of importance to youth and to the Mountain View neighborhood, and to share their observations with a larger Alaskan audience. After the initial two-week project, the youth presented at a statewide youth conference in Girdwood in October of 2009 and presented their photographs and narratives at a successful First Friday exhibition in December, 2009 at Kaladi Brothers Coffee downtown. Thanks to months of outreach and invitation work, hundreds attended the opening exhibition, including five elected officials and two political candidates, as well as CEOs of non-profits, teachers, counselors and others.

The project was featured in a front-page article in the Anchorage Daily News (http://community.adn.com/adn/node/145773), their photos displayed on the Anchorage Daily News website (http://www.adn.com/2009/12/03/1039709/mountain-view-photovoice-project.html), and the youth worked with Alaska Dispatch to create an audio segment and mini-essay (http://alaskadispatch.com/dispatches/news/3352-teens-give-photovoice-to-mountain-view). Through Photovoice, these six teens shared important and often unheard messages with a wider audience, while developing their own communication and leadership skills.