Students at Mat-Su Alternative School in Wasilla learn to write using masks, personal dictionaries and word etymology. The writing that burgeons from these high schoolers reflects innovative teaching that fosters student creativity.
Instructor Lydia Wirkus begins by having students write an acrostic poem, using the letters of their names to begin each line of the poem. The poems use words that reflect the character of the writer.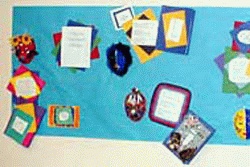 Mat-Su Masks Display
The poem then forms the basis for a study on the origin and development of words. Learning the history and meaning of words breathes new life into old expressions. Students take the words from their acrostic poems and write a personal dictionary that includes the etymology, definition of the words, as well as synonyms and antonyms.
Students' personal dictionaries help develop dictionary and research skills as well as lead students on a discovery of self. One component of the study includes poetry composed of "I" statements. Students answer the questions, "I am," "I dream," "I feel," "I hear," and then end the poem with a repeat of "I am." They also write an informative essay about themselves, learning to use language as a tool to inform and educate.
Finally, Lydia invites each student to create a mask of artistic self-expression. The masks are made up of artifacts from students' lives; magazine cutouts, stereo components, beads, jewelry, and other articles. Students then write cinquain to accompany their masks. These five-line poems explore the nouns, verbs, adjectives and synonyms that best describe the writer. These funny, startling and sometimes heart-breaking works of visual and literary art are on display at the school.
Lydia says of her approach to teaching writing, "It integrates the study of origin, both of words and the students themselves. It uses language to communicate through individual words, poetry, essay and art."
A look at the writing that students produce in this study reveals a teaching approach with results nothing short of extraordinary.