This exercise works especially well in writing groups or small writing classes. Though it can be done solo, it loses much of its charm. It's really a writing exercise masquerading as a parlor game among friends.

1. Get a dictionary, preferably a hardback with weight. Choose a person to be the leader. The leader shakes the dictionary several times, explaining that this is an essential part of the ritual--think of the shaking as equivalent to the shuffling of a deck of cards! The leader then opens the dictionary at random.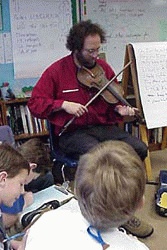 Ken Waldman at Chugach Elementary
2. Peruse the two open pages of the dictionary. For instance, you might find "loveable," "lovelorn," "lowbrow," "lox," "loyalty," and "lozenge." Choose one word from these pages, and write it on a chalkboard or piece of paper.
3. Pass the dictionary to the next person, who'll shake it, and again randomly open it. That person might see "critical," "crestfallen," "cretin," "crick," "criminal," "crisis," and "croak." Choose one word from these pages, and write it down.
4. Pass the dictionary again, on around the group, until there are several words chosen to work with. You might end up with words such as these:
lovesick
critical
tattoo

oatcake
starve
search

paper clip
cute
earthling
5. Once all the words are on the board, each person can choose one or more of them to use in a sentence, paragraph, or essay. Challenge yourself to use as many of them as possible.
6. Add a variation to this exercise by making up phrases with two or more of the words, such as "paper clip tattoo," "those critical earthlings," or "starving for oatcakes." Be creative!
7. Another variation is to vote on the favorite combined phrase from the chosen words and use it as the title for a ten-minute freewrite.