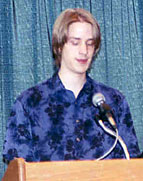 Bradley Treuer is a senior at Steller Secondary School. He is the acting president of the Steller Environmental Club, a writer for Perfect World, and a participant in Anchorage Youth Court. Bradley's other hobbies include playing tennis and riding his bike in the summer and skiing and snowboarding in the winter. He also somehow manages to find time to pursue his true passion -- writing.
Bradley's all-time favorite writer (and personal superhero) is Philip Pullman.
In the future, Bradley dreams of making enough money through writing to be able to move to a small, secluded beach community and live happily ever after. That is, after first spending his college years in a large, crowded beach community.
Editors, 2003
My Dangerous Voice, 2002
A Pair of Old Hands, 2002
The Kitchen Table, 2002