As a young girl, Julie Niederhauser anticipated her weekly visit to the library with her mother and two brothers. When they arrived, she eagerly picked a dozen enticing books from the shelves and then had the daunting task of choosing which two she would bring home with her. Having made her decision, she would carry the two books back to the car and proceed to read them cover to cover before she even got home. It was a long six days between visits, she remembers now.

Julie never outgrew her love for the library, and today she is the Kenai Community Library's reference and interlibrary loan librarian. She moved from San Diego to Kenai in 1983, loved her new home in Alaska and decided to stay. She married her husband, Robert, in 1985. That same year, Julie was diagnosed with ovarian cancer and underwent twelve months of chemotherapy and several surgeries. Following her remission and return to health, Julie and Robert traveled to Veracruz, Mexico, in 1988 to adopt their son, Jeramiah Frederico.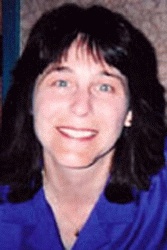 Julie Niederhauser
"I am proud to be a part of the Kenai Community Library," Julie says. "The library staff works hard to provide the community with the best library services possible."

In addition to the library's excellent collection and Internet access, it offers the community several groups -- a writers' group, Totem Tracers -- a group interested in genealogical research, children's story times, and a book club which Julie formed in 1998. The book club meets each month to discuss a work of fiction, nonfiction or poetry.

In 2001, the library organized a Poetry Slam, the first such event in Kenai. The slam was wildly successful -- nineteen poets participated and seventy-four people purchased tickets to watch the event. The money raised that evening was donated to the Alaska Poetry League, which sent Alaskan poets to the National Slam in Seattle.

Julie created the library's Web page -- the development of which she calls a new and challenging experience -- and is currently the library Webmaster. She also teaches a beginning Internet class for the public each month, which, like many aspects of her job, fulfills her love of teaching and mentoring others. "Whenever I can teach others the skills they need to find the information they are looking for, I feel rewarded," she says.