The illustration "Nightcats III" is the third in a series, but it was the first image created. The series tells a story, but the story didn't begin until the middle of this painting.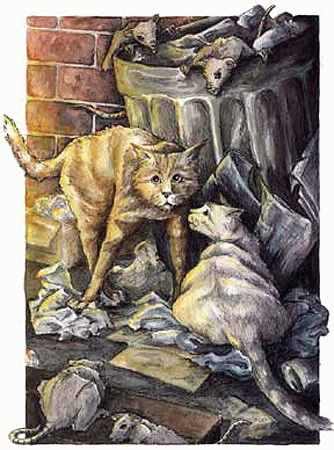 Nightcats painting

This painting started as a list of strict guidelines: study light and shadow, use a particular palette, keep a white border, pierce the border six times. Strict.
But I became bored working by my own rules. I was so bored that I began to ask myself questions: "So who are these cats anyway?" "How did they end up in the street?" My questions began to create a mood. A scary garbage alley mood. A creepy yellow light. "What is that light?" Danger. I have to paint some rats! The mood created a narrative. Excitement. The narrative led to two more paintings to explain how the cats arrived in the alley.
So evolved a series of three images which tell a story. I have yet to write one word of text, but the tale exists nonetheless.


Illustration is © 2001, by Amy Meissner, all rights reserved.