Reading Rendezvous is a giant, fun-filled, free Reading Fair, the latest effort by the Alaska Center for the Book, held in conjunction with Anchorage Municipal Libraries. Held at the new Cuddy Family Midtown Park on August 11, 2001, the first annual Reading Rendezvous was a huge success. "We had tremendous participation from the community," said Pam Cravez, past president of Alaska Center for the Book. "It was really a grass-roots effort; so many organizations came out."
Working on a LitSite Alaska postcard

Authors, illustrators, poets and storytellers were all there. You could make a bookmark or watch a play; play with puns or write a postcard. Dozens of children created their own legend behind the comical "Bear and Raven" statue that sits in downtown Anchorage, and just about everyone read to the dogs in the Friends of Pets booth. Every child went home with a brand new book, compliments of First Book Anchorage.
"I think people really responded to the low-key atmosphere," said Cravez, as well as the presence of so many organizations that weren't selling things, but were giving things away.
Reading Rendezvous was the first event held at the brand-new Cuddy Family Midtown Park, and it inaugurated Anchorage's first outdoor amphitheater. The sun shined on an extraordinary day as nearly 1,000 people strolled the grounds and booths. Frog and Toad made their appearance, as did Clifford, the Big Red Dog.
Many participants stopped by the LitSite Alaska table to enter LitSite Alaska's Postcard Contest. Children from all over Anchorage sat at the table to draw pictures and write paragraphs about their favorite Alaskan places. Many more were seen sporting temporary tattoos of LitSite Alaska's computer logo on their hands, forearms, and even faces!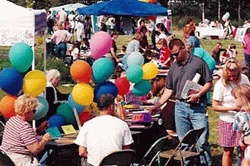 Long lines form at the Anchorage Municipal Libraries Community Books table.

Long lines formed at Anchorage Municipal Libraries' inauguration of their "Community Books," continuously running stories in which each new contributor adds their paragraph or page. Fifteen genres are represented, and the stories are off to a terrific start.
The fifteen books will be made available on a rotating basis at municipal libraries. They will then be bound by book conservator Artemis BonaDea, and presented to the collection.
As the finale to the library's Summer Reading Program, Reading Road Trip U.S.A., Reading Rendezvous also featured plenty of vehicles: junior drag-racing vehicles and novelty decorated cars, the HumVee fire truck and a People Mover bus. There was a car with two fronts and a VW orca whale, not to mention the radio-controlled trucks for kids to operate themselves.
Local artist Amy Meissner created the colorful artwork for the Reading Rendezvous poster, with T-shirts and posters available for sale through Alaska Center for the Book.