What's in a word? The whole world, for people learning how to read and write. Ask the son of Polish immigrants. Ask the African man who just passed his citizenship test. Ask the Alaskan who read to his ill mother, after a lifetime of illiteracy. Ask the Romanian dentist who's mastered English so well that she's in demand as a public speaker.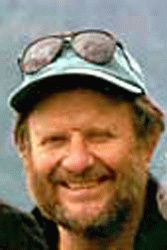 Gerry Dubie

Gerry Dubie was raised in Michigan, the son of Polish immigrants. He was the kid who "talked funny," and was teased unmercifully by other children. He knows the struggle to master another language.
Dubie taught in Anchorage public schools and as a UAA instructor, and served as an administrator in Alaska's court system before retiring. Now he devotes part of his free time to tutoring with the Anchorage Literacy Project. One of his students is JB, a native of Africa who is learning to read and write English.
JB talks about how illiterate people are treated. "Some people treat me like I am very stupid. Many people speak to me like I am a little child."
"We both understand the ways that language is power," Dubie says.
With Dubie's help, JB has passed his U.S. citizenship test and is working toward bringing family to Anchorage from Africa.
JB speaks slowly, in broken syntax with a French accent, precisely choosing his words. His voice shaking a little, he talks about his work with Gerry Dubie. "This man. I have so many things in my heart and head right now. I can read. I can write my name. I never had that in my life before."
Many of the 900 people each year who receive services from the Anchorage Literacy Project are like JB, immigrants who want to read and write English. And some of the nearly 200 volunteers are like Gerry Dubie, people who want to pass on the gift of literacy.
But some of the people who come to the Literacy Project are not arriving from a different culture, a faraway country. One student, raised in Kenai, never learned to read and write because he was needed to fish and work on the family farm. He came to the Literacy Project at the age of 50, determined to master the language.
After two years of tutoring, his moment of triumph came when he was able to read out loud his ill mother's Mothers' Day cards.
Director Polly Smith says people from ages 19 to 70 seek services from the Anchorage Literacy Project.
Volunteers go through 12 to 15 hours of tutor training before being matched with people learning to speak, read, and write English. The tutors provide on-site instruction in small classrooms and language labs to about 700 people each year, and off-site family literacy tutoring to another 200 people.
Last year, Smith says, volunteers tutored people who spoke many different languages. In one training workshop, twenty-two tutors were matched to students representing eleven languages. Spanish, Russian, Albanian . . . "kind of like the waves of immigration," Smith says.
Language is a way in, a corridor with doors, each opening into a new world. Ask Mariana Apetroaei, who emigrated two years ago. She was a practicing dentist in Romania and wants to resume her profession here. After studying English at the Anchorage Literacy Project, she opened her own home health care business. Now Apetroaei serves on the Literacy Project's board, and she's a sought-after speaker, who appears before hundreds of people on behalf of The United Way.
That's power -- no matter how you say it.