After completing undergraduate degrees in art and textiles in Nevada, Amy Meissner spent several years as a clothing designer in the United States and Canada. She worked as a pattern maker and designer in several factories, and in 1995 designed for an award winning competition in Toronto. Nine of her twelve years in the fashion industry were spent working with an elite clientele designing and creating couture wedding gowns. "I was given advice once: You have to fit the body, but more importantly, you have to fit the mind. I'll never forget this. There is a lot of hand-holding during this creative process. Most brides are nervous about their wedding and need a sounding board … or a punching bag. I tried to be all things for them and still deliver their dream gown. These were the most challenging projects, but also the most rewarding. "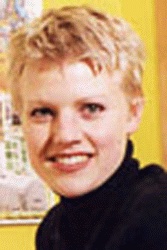 Amy Meissner

In the middle of her career in Canada she began to question whether or not the fashion industry fit her mind. She had a strong desire to create children's books -- their pictures and their words. Unsure of the feasibility of such a leap, she decided to devote one year of her spare time to research and self-discovery. She enrolled in night courses to explore children's literature and illustration. She met weekly with a fledgling artists' group. Near the end of her self-allotted year, her husband was unexpectedly offered a job in Alaska. The timing was uncanny. She saw this as an opportunity for herself as well. They have since moved north and Amy is pursuing a Master of Fine Arts in Creative Writing at the University of Alaska Anchorage, while focusing on her artwork in her spare time.
Meissner's adult fiction has been praised by the annual University of Alaska Anchorage Anchorage Daily News Creative Writing contest. She won first place in the College Fiction division with her short stories, "Canal" in 2001, and "Forgiving Eva," in 2002, which was also awarded the contest's Grand Prize.
Amy just completed the illustrations for her first picture book, Ollie Jolly, Rodeo Clown, written by Jo Harper, and published by WestWinds Press®, an imprint of Graphic Arts Center Publishing Company. The book will be available in stores in October 2002. This was a challenging project, as any first book would be, especially because Amy found herself in snowy Anchorage trying to recreate the landscape of the Nevada desert.
Amy is currently finishing the illustrations for the first two books in the Seldovia Sam series, written by Susan Springer, available through the Alaska Northwest Books imprint in spring and fall 2003. Her own story, Violet and the Rotten Ballerinas, is published here for the first time, followed by two other developing stories in first illustration form.