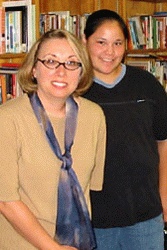 Terri Fields and Rebecca D. Greeley

Terri Fields is an Athabascan from Fort Yukon. She is now living in Delta Junction and often recalls her Alaska Native heritage and culture in her writings.

Rebecca D. Greeley, who illustrated Terri's story, is a middle school teacher at Fort Greely School near Delta Junction. She teaches writing, reading, and incorporates art whenever she can into any lesson. Her favorite hobby is to find talent within her students and to promote them!