Chugach Optional Elementary
Third Grade Free-Writing Assignment
It was very lonely after my dog died; it was very sad too. It all began when she started to eat less. After a few days we took her to the vet. There was something wrong with her. The vet told us they would keep her there to see what they could do.
When we came back they told us my dog was going to die. My mom asked if we could take her home. They said yes. So we took her back to our house. That evening my mom called the special vet that gives animals a shot that puts them to sleep. The vet came around midnight. We had moved the TV into my room so I would not feel so sad, but I did.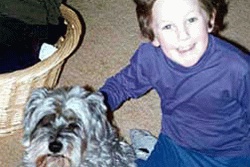 Brennan and his dog.

I cried for hours hoping a miracle would happen and my dog would be okay. The funny part was when the vet was coming up the stairs. I sprayed him with my little ring sprayer. My mom asked the vet if we could give my dog some water. She couldn't have any water or it would make her pain worse. The vet said yes and my mom gave her some.
After the vet gave her the shot she looked like she was asleep with her eyes open. I felt her; she was dead all right. After awhile she was stiff as a board. Then a couple of years went by. I was sad thinking about my dog, so I wrote this story.
Note: Edited for punctuation.