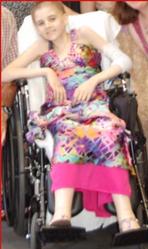 Gracey

What is it that I remember most, and, will for the rest of my life . . .?
I met Gracey in her favorite hospital room where she often set up shop doing nurses' nails to pass the time. Diagnosed with bone cancer at age 7, she had been in and out of the hospital for years. At 17, she was a frail yet determined young woman who was full of passion.
We started to talk. I was working second shift and somehow our conversation led to my going home in the evening. I told her that I would fly in my 1950 Cessna from Burlington Vermont to a landing strip on a farm in New York State where I lived. I asked her if she had ever been in a small airplane. She had not. She asked me where I had traveled with my airplane and we talked about some of my adventures over the years including a 6-week floatplane trip to Alaska dubbed as a honeymoon, but truly was a fishing trip. I offered to take her up in my airplane if she was well enough to travel.
Gracey discharged a few days later and I did not see her until the last week of my rotation. She had asked for me specifically. During the shift, I sat down on her bed and we talked. At one point, Gracey brought up my airplane again. In her very straightforward way, she asked me where I would take her if she could go flying with me. My response was, "Where would you like to go?" The remainder of the conversation covered Gracey's bucket list. She wanted to meet the Cake Boss in New Jersey. She wanted to go to New York City and see a Broadway play. She wanted to go for a carriage ride in Central Park and she wanted to eat a hot dog from a street vendor in the city.
I was determined to make this wish happen. Considering the amount of morphine she was on and the significant bone pain she endured, I knew a 2 hour flight in my small Cessna would not be possible. Neither would a 6-hour car ride to the city. As for meeting the Cake Boss, well first I needed to figure out what or who a Cake Boss was! The only way to make this happen would be to jet down in 30 minutes. However, I was a pilot and my husband saw 500 pilots a year in his role as Aviation Medical Examiner. Many of the pilots we have worked with over the years fly either for commercial airlines or charter flights but there were a few local jet pilots that flew for local companies. I made just two phone calls and explained my plight. In a matter of hours, PC Construction, a local firm had offered the use of their jet free of charge, including two pilots that would stay in Teterboro overnight with the airplane, enabling Gracey to make the trip. In addition, if things went poorly and Gracey needed to go home early they would be on call ready to take her back.
Next was the Cake Boss. As a googling fiend, I searched high and low and found the jackpot. I happened to get in touch with his public affairs agent. It was a slam-dunk. The Cake Boss was ready whenever Gracey could get there. The gracious folks at Make a Wish Foundation organized limo transportation, tickets to Wicked with backstage preprogram tours, and a post-show meeting with the actors.
When it finally came time to travel Gracey asked me to go. As a student nurse, I felt out of place and actually needed the nudging of my clinical instructor to accept this incredible invitation. Gracey's Mom, her palliative care physician, her primary nurse and I all got into the Jet that Thursday morning. We had a packed calendar. Our first stop was the Cake Boss. Buddy and his entire family could not have been better. They opened their arms to Gracey. We spent hours there seeing everything and Buddy signed all kinds of books, t-shirts, and other items for her. There were photos and plans to have Gracey in one of their shows. After two incredible hours, Gracey was fading. She needed rest. We bowed out of the opportunity and off we went in a comfortable limousine to New York City only minutes away.
We next met up with someone from Wicked who showed us back stage, to the costumes, sets and general workings of the theatre. Then it was off to the hotel for some needed rest. Later that evening it was time to go to the theatre. Wicked was amazing and afterwards, when the performers came out to meet Gracey, watching the love and affection filled my heart. Gracey had a tough night; during sleep, her breathing pattern was deteriorating. At this point, she was unable to eat but there was still one thing left on her list she could do. We traveled by limo to Central Park and a beautiful carriage awaited us. The palliative physician ever so gently carried Gracey into the carriage and we set off for a short, but beautiful ride in Central Park.
The limousine picked us up and off to the airport we went. Gracey was not doing well. Although her pain was almost intolerable at this point, she had fulfilled her list. After arriving home to Burlington, Gracey checked back into the hospital where they could provide more support.

Gracey passed away less than 24 hours from the end of our incredible trip. It was unforgettable to me and still brings tears to my eyes that I could have been a part of such an amazing young women's spirit, fortitude and life. All my other training pales in comparison. What I will remember most and for the rest of my life is Gracey.