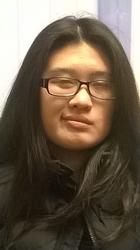 Christyn Luu

I remember a few things revolving around my surgery to remove my brain tumor. I couldn't eat on the actual surgery day, which seemed dumb at the time, and only a bit dumb now, the IV's made me feel cold, and even the cool taste of cherry Popsicle seemed weird after the initial surgery. What I remember mostly happened a few days after.
My left side was itchy and I wanted to scratch it. My hand raised slightly to relieve myself of the unfavorable sensation, but my mom's movement and my sister's words stopped me from successfully doing anything but place my hands in my lap and pout. I was about 10 and my family and I were currently staying in my oldest sister's apartment in Washington while she was off doing who knows what during the summer. My mom, dad, and second oldest sister were doing their own thing to keep themselves entertained while my brother and I watched TV.
My fingers twitched again, but this time I held in my instinct to scratch. The time was seven in the evening, and I knew what came next. My mom approached me with a tube of ointment in her hand and a Q-tip in the other. My brother, Eric, took this cue to move further away and into another chair as I rested my right ear against my mom's thigh. Now I couldn't hear the TV as Quicksilver taunted Spike and ran around in a circle, creating a makeshift tornado in the school hall. It was a good thing I already watched this episode of X-men.
I could strangely feel the cool, thick, and almost sticky-like texture of the ointment slathered onto my newly acquired stitching behind my left ear, even though I was sure all sense of feeling was permanently numbed on my left side. I could feel the itchy sensation start to fade, no longer nagging to be scratched, yet not fully gone. The ointment helped me in the sense that I didn't want to touch the stuff, and I hoped that the itching would fade later in the evening.
In the kitchen dessert was in the oven. But before I could get up, my mom bunched up all of my hair and placed it in a side ponytail above my right ear, leaving my stitches exposed. (I never actually saw my stitches until a picture taken by my sister Liza showed me how grotesque it looked. Now I understand my brother's slight look of panic whenever I was facing him-- with my left side towards him.) Finally I could get up, and with the new smell of apples in the air, knew that the apple turnovers were ready for me to eat.