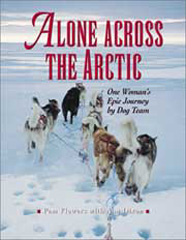 Alone Across the Arctic: One Woman's Epic Journey by Dog Team
In this section Sue Sherif, School Library/Youth Services Coordinator for the state of Alaska, describes recently published children's books with an Alaskan theme.
Alone Across the Arctic: One Woman's Epic Journey by Dog Team, Flowers, Pam, with Ann Dixon, Alaska Northwest, 2001. Grades 6-12.
Musher Flowers tells the amazing story of her 2,500-mile journey with her dog team across the Arctic Coast of North America. For a picture book version for younger students, see Big-Enough Anna, also by Flowers and Dixon, below. Study guide available
Alaska's Heroes : A Call to Courage. Ferrell, Nancy W. Alaska Northwest, 2002 Grades 8-12.
Brief accounts of many of the State of Alaska Award for Bravery-Heroism recipients.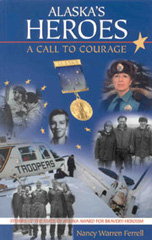 Alaska's Heroes: A Call to Courage

Alaska's 12 Days of Summer. Chamberlin-Calamar, Pat. Illustrated by Shannon Cartwright Sasquatch/Paws IV, 2003 Preschool-Primary.
A patterned picturebook based on the traditional Christmas song, but with an Alaska summer twist.
Alaska's Watchable Whales: Humpback & Killer Whales. Kelley Mark and John Hyde. Text by Linda Daniel. Mark Kelley, 2004. (PO Box 20470, Juneau, AK 99802, 1-888-933-1993). All Ages.
A photographic scrapbook of whales in action, this picture book format book also provides all sorts of interesting facts about the life and habits of humpbacks and orcas as well as true-life whale tales.
Arctic Lights Arctic Nights. Miller, Debbie S. Illustrated by Jon Van Zyle. Walker, 2003. Grades 1-3.
Written to explain the concept of the changing seasons' days and nights to children elsewhere, it can also be used with Alaskan students to compare their regions' changing light patterns with those of the central interior. A glossary explains some of the natural phenomena such as alpenglow, sundogs, the equinoxes and the solstices.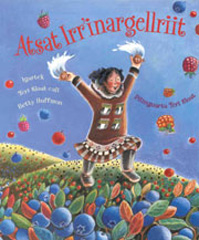 Atsat Irriinargelllriit

Aleutian Sparrow. Hesse, Karen. Margaret McElderry Books. 2003. Grades 5-8.
The tragic story of the Aleutian evacuation during World War II is told in unrhymed verse through the eyes of Vera, an evacuee by the Newbery-Award winning author of Out of the Dust.
Atsat Irr'inargelllriit. Igartek Teri Sloat cali Betty Huffmon. Pilinguarta Teri Sloat. Translator, Elena Chingliak. Yupiit School District, 2004. Yup'ik edition of Berry Magic (see below). Available from only from Cook Inlet Book Company or Yupiit School District, PO Box 51190, Akiachak, AK 99551-1190 (907-825-3600).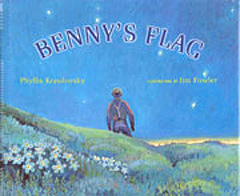 Benny's Flag

Benny's Flag. Karsilovsky, Phyllis. Illustrated by Jim Fowler. Roberts Rinehart, 2002. Primary.
A picture book version of the story of the boy who designed Alaska's flag with strong illustrations.
Berry Magic. Huffmon, Betty and Teri Sloat. Illustrated by Teri Sloat. Alaska Northwest, 2004. Primary.
Yup'ik storyteller Hoffman and former Alaska teacher Sloat adapt a story of Western Alaska that explains how a little girl sews dolls that work magic on a tasteless berry crop. Also available in a Yup'ik language edition. See Atsat Irr'inargellriit above. Activity and Teacher's Guide.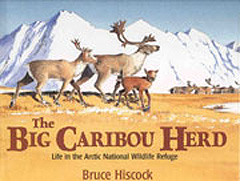 The Big Caribou Herd: Life in the Arctic National Wildlife Refuge

The Big Caribou Herd: Life in the Arctic National Wildlife Refuge Hiscock, Bruce. Boyds Mill Press, 2003Grades 3-6
A large, format informational book that combines natural history with striking watercolor and pencil illustrations.
Big-Enough Anna: The Little Sled Dog Who Braved the Arctic Flowers, Pam with Ann Dixon. Illustrated by Bill Farnsworth Alaska Northwest, 2003. Ages 5 and up.
This attractively illustrated picturebook tells the story of Pam Flowers' 2,500-mile Arctic journey by dog sled from the point of view of small lead dog Anna. Study guide and coloring sheet.