| | |
| --- | --- |
| Cook Inlet Book Company 415 West Fifth Ave. Anchorage, AK 99501 | Tel: (907) 258-4544 Fax: (907) 258-4491 www.cookinlet.com |
Update: Cook Inlet declared bankruptcy and closed in the spring of 2006. This profile was written several years before that.

Cook Inlet Book Company, owned and operated by Ron and Lynn Dixon, specializes in regional books about Alaska and the polar regions. Lynn Dixon, a longtime Alaskan and third generation bookseller, says their goal is to carry every book about Alaska.
"If it's Northern," she says, "we want to represent it. If we don't stock it, we can get it for you." Dixon says this vision has made the bookstore successful both because eager tourists want to read about the magnificent place they have come to experience and because Alaskans themselves buy a great many books about Alaska.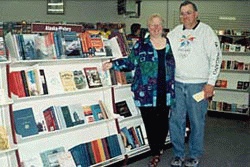 Ron and Lynn Dixon

"The people here are very interested in the place they live," Dixon says. "Most Alaskans feel they've discovered an exotic, almost secret place. And they want to learn all they can about it."
Cook Inlet Book Company, located on Fifth Avenue in downtown Anchorage, is in a perfect location for tourists who browse in souvenir shops. People who live downtown also frequent the store. Dixon says there are some downtowners who walk in every day to buy their New York Times and see what is new on the shelves.
"I know so many of our customers that when I look at catalogs I mark things I know a certain customer will like," Dixon says. "We have a couple of regulars who come in to browse the catalogs and mark the books they think we should order. We are very much a community bookstore."
The Dixons' sense of community extends to readers and writers all over the state. They sponsor readings (almost every Friday night in the summer) by Alaskan authors as well as programs that bring books to communities and libraries throughout Alaska. These programs include:
Partners and Libraries (PAL): From October through April, for every book purchased in the store, 10 percent of the profit goes toward credit for school libraries. Just tell the cashier which school you go to or want to support.
Battle of the Books: This program is in schools districts all over the state. Children compete to see who can read the most books. Every district has a winner. The Dixons provide books for the winners ??? about 1,000 books a year.
Book Fairs: Fund-raisers for small communities to raise money for their libraries, and to bring books to isolated places. The Dixons work with communities to plan the event and choose books, and they pay to ship the books out.
The Dixons have also created an e-mail catalog of books about Alaska, updated four times a year, available to librarians in the state. Cook Inlet Book Company's Web site has information about special orders, a catalog of titles, and a list of favorites with the cover and a description of each. Visit them at www.cookinlet.com.
And the next time you drop in, pick up a copy of The Reader's Edge, the store's publication about new books, including an Alaskan bestsellers list for adults and children.