Title Wave Books
1360 W. Northern Lights Blvd.
Anchorage, Alaska 99503
Phone: (907) 278-9283

Toll-Free: 1-888-598-9283
Fax: (907) 278-7323
www.wavebooks.com

In 1991, husband-and-wife team Julie Drake and Steve Lloyd started a small used bookstore in Anchorage. Since then, Title Wave has occupied three different locations, and has grown to become the largest independent bookstore in Alaska, and one of the biggest bookstores on the West Coast. Title Wave's newest location features over 30,000 square feet of shopping space, a Kaladi Brothers Internet Café, and a selection of more than a half a million new, used, audio and collectible books. In addition to the great selection of both new and used books, Title Wave has thousands of used videos, DVDs, and CDs, too.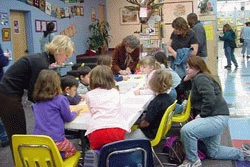 Author-illustrator team Susan Springer and Amy Meissner help kids with a craft project following a story time reading of their book, Seldovia Sam and the Very Large Clam.

Alive with activity almost every day of the week, Title Wave hosts several events, including author appearances, readings, slide shows, lectures, children's story times, book clubs, writers' groups, and art shows. "Title Wave is committed to being a community-centered space for readers of all genres," says Kristin DeSmith, Title Wave's Events and Promotions Director. Writers such as Sharon Olds, Tobias Wolff, Pam Houston, and John Sandford have read to hundreds of appreciative fans. "We're a place where Alaskans can come to meet the writers they've grown to love."
On any given Saturday afternoon, kids can catch a storytime reading, or celebrate a special event with a guest children's book author like Amy Meissner, Ann Dixon, Barbara Lavallee, Pam Flowers, or Mindy Dwyer. For really important events, such as Lemony Snicket Day or Harry Potter Day, kids can take part in parties to honor their favorite authors. "Our children's department is overflowing with books, so we set up tables in our event area and let the kids' creativity take flight," says Kristin.
Title Wave is a great place for people who like to spend hours browsing for books. With more than a half a million to books to chose from, customers can grab a cup of coffee from Kaladi's, plop down in Title Wave's comfy chairs, and page through book after book. If you're looking for something to read, but don't have anything in mind, customers can ask any of Title Wave's book-crazy employees for a recommendation, or they can simply browse the "staff picks" bookshelves at the front of the store.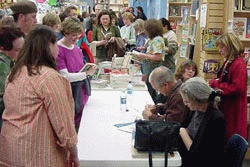 Dorianne Laux, Joseph Millar, and Sharon Olds sign books after a National Poetry Month reading. Standing behind the table, Kristin DeSmith, Title Wave's Events and Promotions Director, gives Dorianne Laux a book to sign.

Because Title Wave buys used books as well as new books, customers bring in bags of previously read books and receive cash or store credit for their merchandise. "Alaskans are avid readers," says Steve Robb, Title Wave's lead used book buyer, "so we are constantly amazed by the great books that come across our counter." Title Wave buys thousands of used books a week, so every day customers find something new on the shelves.
For computer savvy customers, Title Wave's Web site is just the way to go. Every book in the store is available for customers to order online! And Title Wave offers free shipping in.
"We all think of Title Wave as a place where writers and readers come alive," says Kristin. "If you listen carefully, you can even hear Tolstoy, Dickens, Fitzgerald and Whitman engaged in quiet conversation."