Margie (Twitchell) Brown, President and Chief Executive Officer of CIRI, grew up in the tiny village of Takotna, which today has grown to a population of 48. The village is in the Doyon Region, but Brown's parents were both raised in Kuskokwim River villages and grew up in the Calista Region. They moved to Takotna to assist her grandfather, A.H. Twitchell, with his general store. While in Takotna, the family also farmed and generally lived a subsistence lifestyle. Later, Brown's father, who was Yup'ik, renewed his teaching credentials and taught high school English and Literature. He always encouraged his children to further their education. Brown said that one of the most important lessons she learned from her father, Benjamin F. Twitchell, was about the enduring nature of the land and its natural features.
* * *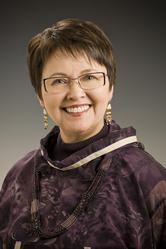 Margie Brown

Margie (Twitchell) Brown

Back home, I remember my father always making an effort to "teach" us. He would take us along on his trap line. He would send away for movie films and show them to all the children in the village on his film projector – this was before TV was available. He would have us "help" with the spring preparations for planting the seed potatoes and with the fall harvesting even though we were too small to be really of much help.

He would lead us out on a starry night in Takotna and point out the constellations in the sky. "Do you see Orion, the Hunter? Look for the three stars that make up his belt." And, of course, young children don't see things the same way adults do. We were always trying to keep up with him, seeing and absorbing what he wanted us to absorb.

The prominent feature in Takotna is a mountain we called Takotna Mountain, which I think is actually named Tatalina Mountain on the maps. But not far from it is another mountain called Mount Joaquin. My grandfather had a hand in having the mountain named after his friend and partner, Frank Joaquin. Mount Joaquin has on it a rock feature that is a light-colored rock contrasted against dark-colored rock. This light rock makes out the shape of an African lion. My father would come outside and look at the mountain, and he would say, "Margie, do you see the lion? Do you see the lion on the mountain?"

I would stare really hard, but I could not see it. I was eager to please and slightly embarrassed that I could not see what he saw, so I would say, "Yes. Yes, Daddy, I see the lion." I would come out afterwards when he was off busy, and I would quietly study the mountain, intently trying to make an African lion appear. No matter how hard I tried, my brain just couldn't process that image. I confess I never did see the lion image before we moved from Takotna.

As an adult, I went back to Takotna. I hadn't been there for years and years. Now, I was a grownup going back for the first time. In Takotna, the airstrip is on top of a hill overlooking town. We landed and I walked down the road to the village, which is lined up along the banks of the Takotna River, a tributary of the Kuskokwim River.

The village itself seemed so changed to me. The layout was right, but the buildings were nearly all changed. I struggled to find remembrances. The log house my father had built was still standing, but the gold-rush vintage log building that was his general store had burned down. My father's generator building was gone, and all his out buildings. I remember these building well because as a young girl they made up my sheltered world.

My brothers and sisters and I were blessed to have been raised by very good parents who watched us carefully. We were not allowed to go to certain parts of the village without them. We were not allowed to play in the high grass at the edge of town because there were so many black bears. When you think about it, we had a relatively small space to play in. Yet, when I was a child, all the distances in my play yard seemed like vast distances. Now, the buildings that marked the limits of my play yard were essentially all gone. Not only that, everything about the scale was wrong. Everything was so much closer together than it should have been. With adult eyes, my whole perception of the place was turned on its ear. I thought all this human stuff is just so changeable.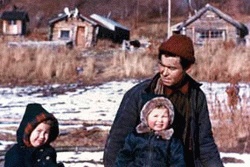 Margie Brown sits in her father's lap in Takotna in 1952. Also pictured is her sister, June McAtee. McAtee is a Calista shareholder and is Vice President/Land and Natural Resources for Calista Corp.

After I satisfied my urge to look around the village, I began to take in the surrounding countryside. I walked past our place and along the Takotna River. I looked across the river to Takotna Mountain. Then I found a spot where I could see Mount Joaquin. I was just thunderstruck – totally unprepared for the sight of that African lion! After all these years, and without even trying, I could see it. I was overwhelmed with joy and memories of my father. I could not believe how amazingly plain the shape was to me now, even though it had been invisible to me as a child.

As I climbed back up the hill to the airstrip, I thought about how the mountain and its African lion feature are so enduring. I could now see the image my father did – and his father before him, and so on. It is the natural image that endures through geologic time, not the buildings and the village itself. Those are very momentary and changing things.

My father died when I was 18 years old. One of the regrets I have is that we didn't know each other as adults. Somehow, the viewing of this image, the African lion on Mount Joaquin, for me was like a generational crossing. I felt close to my father. I felt I understood his and his father's appreciation of things of nature. As I stood on the airstrip looking across the countryside, I was reluctant to leave. It brought tears to my eyes that I could finally, after all these years, see this feature on this mountain that my father had taken such care to point out to me. And I was sorry then that I couldn't tell him, "I see it. I really do truly see the lion on the mountain."