Writing and telling stories is a family tradition. My father and my grandfather have both written about their lives on St. Lawrence Island.
Although my grandfather Paul produced a substantial amount of work in his lifetime, I was not aware of this until well into my thirties. Much of his writing remains obscurely within the archives of the Smithsonian Institution and the collections of Otto Geist, at the University of Alaska museum in Fairbanks, Alaska. His children say he would not allow them to read his work, which told of Siberian Yupik culture before missionary influence. His conversion to Christianity was behind this decision. Yet he wrote about his culture with such enthusiasm that I wonder if he was conflicted or saddened by this.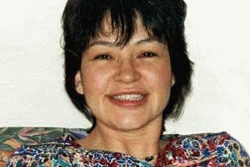 Susie Silook

Similarly, my father moved our family to Nome when I was six. He decided that the old ways were dying, and that his children needed to be functional in the new world. Yet he, too, wrote enthusiastically about our culture, sharing many stories. He continues to tell stories about his life as a Yupik. When I was thirteen he moved us back to St. Lawrence Island, determined that we learn our culture. While my grandfather's conversion was sincere and absolute, my father in his lifetime reverted back to his own Native beliefs.

While my father and grandfather largely retained their Yupik identity, to this day I do not feel completely comfortable in either culture. When in Yupik society I am, at times, a rude American. In American culture I am sometimes a passive Native.

Perhaps it is my bi-cultural background that is my strength as a writer. Up until six I spoke only Yupik and ate a predominantly sea mammal diet. I was able to read and write at an early age, and my teacher there was full of praise. In Nome, however, I remember acing a test, only to have the teacher loudly tell another student how I'd gotten the answers right almost word for word from our study material. I still remember the sneer on her face and the implication that I'd cheated, and the opposite look of appreciation on the student's face, who knew of my abilities.

I believe that writing is about truth and I've been told that the writing makes people empathetic. I find that personal accounts of the effects of forced assimilation are an effective way of communicating an important truth about Native life. But rather than invoke defensiveness in the reader, I've grown more diplomatic as the years pass, and while I will not deny the truth, the truth can be revealed in many different ways.

I'm grateful for the things my father and grandfather have shared through their work. They exemplify their time. There is much talk of hunger and starvation. I've never had to experience hunger to the extent they have, so I write of the deprivations found in my time.

Biographical notes:

Roger Silook, Susie's father, now an elder, has worked in many different trades. The late Helen White of the Alaska Magazine encouraged him to write stories about life on the island, and two volumes of his work were published through Ms. White. He was the first chairman of the Alaska Eskimo Whaling Commission and traveled extensively during his term. He has also served as the mayor of Gambell, and held numerous board positions.

Paul Silook, Susie's grandfather, was the son of Ugwitelen and Wamiiyaq of Gambell, on St. Lawrence Island. He loved to read and write, and worked as a translator for the church, a substitute teacher, and as an assistant to the early archeologists that excavated on the island in the early 30s and 40s. He left behind a wealth of literature about the island and culture, and his works are housed in the Natural History Museum of the Smithsonian Institution, the University of Alaska Museum in Fairbanks, and the Alaska State Museum.