Retired airline executive Ray I. Petersen, who was born Aug. 10, 1912, came to Alaska in 1934. After working from Anchorage for about a year, he went to Bethel and worked there as a pilot. Eventually, Petersen served as Chief Operating Officer of Northern Consolidated Airways. He recalls the difficulties early pilots faced with virtually no communications and points out how some of his key decisions in those days were based on luck. The following narrative was developed through interviews with CIRI Historian Alexandra J. McClanahan.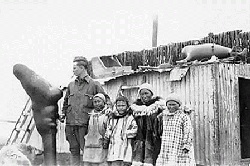 Ray Petersen with children from Tununak.

There were about 2,500 people in Anchorage in 1934. Fourth Avenue was the main drag. There was nothing south of there, across from what is now the Park Strip. There was a road out to Lake Spenard, and that was it. There was another road, they called "The Loop," that drove around the area which is now Fort Rich and Elmendorf. Those were the only roads. And, of course, the streets were unpaved. And when I got here, about half the stores on Fourth Avenue were boarded up, no businesses in them. But that changed when the Dust Bowlers came up and started the Matanuska Colony. And then it kind of blossomed out a little bit.

The main occupation of Anchorage was as a transportation center for the railroad. And then there was the Signal Corps. Those were the two main operations, plus there were four local air services at that time, Woodley Airways, Star Air Service, McGee Airways, and Pacific International Airways, the company that was taken over by Pan American. They moved up to Fairbanks in 1935, I think. Now Magee and Star later became Alaska Airlines.

The airplanes were not equipped with radios or anything. The only communications you had was a Signal Corps station at Bethel, which was centered there in that area because it was the seaport for the Kuskokwim, and local mines. And they had another one at Flat, one in Nulato and one in Dillingham. So when you wanted weather, you could get that weather from the Signal Corps operator. And they were very cooperative and helpful to the pilots.

All flying was difficult in those days. You had the same conditions that people running the dog teams had. You just did what you had to do. You had to learn your weather. The difficult part, of course, was going through the passes, Merrill, Clark and Rainy. And, of course, you had to watch your weather and got pinched off a lot because of weather in the passes. But, outside of that it was no problem. In those early days, it wasn't too hard to navigate in the Interior because they had dog team trails, and in bad weather you could follow them. They were pretty handy. In fact, finding Rainy Pass was extremely easy because the old Iditarod Trail was still visible. Then, as time went on during the War and after, it became more or less obliterated, but by that time we were all instrument airplanes so you could fly over.

The main problem then was bad landing conditions. So you were damaging airplanes quite a lot in those days.

I lived in Bethel for six years, starting in 1934. We formed a corporation, the Bethel Airways. And then in 1935, I went back to Chicago and bought an airplane and flew it north. That was a Pratt and Whitney Wasp-Powered Travelair, A-6000-6. It carried six passengers.

Of course, flying out of Bethel, I was on wheels. So my main work was with the mining camps because there were camps up on the Yukon, as well as the Platinum Mine down at Goodnews Bay and then the New York Alaska Dredging Company up the Tuluksak. I served those people and ran between Anchorage and McGrath – all the villages along the river.

Bethel had 400 people when I first moved there. And 100 of them were Caucasians, and the balance of them were Eskimos. When you're young, you don't have any sense of history. You don't know that you're making history. You don't know that you're making history right now. You won't realize that for another 50 years.

The Moravian Mission was the main mission there. It served all the tundra villages and went down as far as Goodnews Bay, Quinhagak. With the exception to the west -- Tununak on Nelson Island was Catholic.

Mrs. Lulu Herron was the traveling nurse. And she worked with another nurse, and they traveled together, either by dog team or chartering airplanes. In the wintertime, of course, I flew a lot for Mrs. Herron because I was on skis in the winter and I could land all of these places. The doctor was at Akiak, where his clinic was. But Bethel was where the main activity was. In the summer time I couldn't take care of them because I was on wheels. I had an airplane that carried four passengers.

In 1938 I went up the Kuskokwim, and I picked up a Native at one village and another Native at another village and came down to Bethel and took on Natives there. So I had a load of these patients to go to the hospital at Mountain Village. Well, if you take a beeline from Bethel to Mountain Village, Mountain village is about 120 miles. And you can head straight across the tundra, and you were about 15, 20 miles west of the bend in the Yukon.

I took off, and I was going to take a beeline, and something told me, "Why don't you just go off to the right and catch the river?" So I did. What happened next was that when I got up to Pitka's Point the engine blew up. So I landed out on the ice. Of course the ice was clear. Everything was fine. And when I landed it just so happened that there were a couple of dog teams going by. I landed there and tied the airplane down. We loaded the patients onto the sleds with the dog teams and took them on in to Mountain Village.

That was one of the really outstanding times I recall, but it was just a bit of luck. If I had gone direct, I would have been out on the tundra. And no one would have known I was out there with those patients. There were no radios in the airplane. It would have been some hours or days later that they'd say, "Well, Petersen was here with his load of patients, and he hasn't arrived in Mountain Village." And in the meantime, it would have meant a great deal of suffering for the patients.

So that was a bit of luck there; that was because I usually went straight. I thought, "You know, I'll just play this safe." And I went over and caught the Yukon.