"Waqaa" -- Yup'ik and Cup'ik
"Aang" -- Aleut
"Ts'im'wii'amhaw" -- Tsimshian
"Greetings!" -- English
If you're looking for a fun way to learn more about the different groups of Alaska Natives, then the Alaska Native Heritage Center is the place to go. The Center consists of a Welcome House which hosts traditional dances and story telling as well as featuring the Hall of Cultures and its various exhibits highlighting cultural components of different Alaska Native groups. The Welcome House also offers educational films, informal demonstrations and presentations as well as formal classes teaching language, arts, and history throughout the season.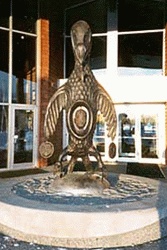 Raven Statue at Alaska Native Heritage Center

Outside of the Welcome House, the Center offers terrific tours of five different authentic Native structures. A tour guide will bring you around the scenic Tiulana Lake, telling about each different Alaska Native cultural group and how they live. You will have a chance to walk inside five different structures to see for yourself how different Native groups keep warm through the winter, dry fish and other animal hide, and live off of the land.

The Heritage Center was completed in early 1999, and is located on 26 acres of beautiful land, tucked behind the Glenn Highway and Muldoon Road. The Center was constructed to celebrate, perpetuate, and share the different Alaska Native traditions for the enrichment of all Alaskans, as well as visitors from around the world.

The Heritage Center places a great deal of investment in its educational component. It works to provide understanding of the five groups of Alaska Natives:
Athabascan
Yup'ik and Cup'ik
Inupiaq and St. Lawrence Island Yupik
Aleut and Alutiiq
Eyak, Tlingit, Haida, and Tsimshian
The Center also works in partnership with area schools, bringing educational lectures and demonstrations to local classrooms.
For more information about the Alaska Native Heritage Center's offerings, visit their web site at www.alaskanative.net. Or give them a call at (907) 330-8000.
The raven statue, above right, stands in the entry of the Alaska Native Heritage Center.