The vitality of Alaska Native cultures is part of what makes Alaska such a dynamic place. KNBA 90.3 FM in Anchorage expresses the vibrancy of Native cultures through a variety of programs featuring storytelling and oral traditions. Founded in 1996, KNBA is the first, and only, urban Native American public radio station in the nation.
The need for the service KNBA provides Alaskans is compelling. Many Native American languages are facing extinction. The Census Bureau estimates that more than one-third of American Indian and Alaska Native tongues had fewer than 100 home speakers in 1990. Since then, many tribes and Native cultural organizations have made efforts to document and reinvigorate their languages through immersion classes and the creation of dictionaries and grammar books. The spoken language is essential to most Native American cultures, which in virtually all cases have had a strong reliance on oral histories and traditions. These languages play a critical role in Native American cultural identity. KNBA is committed through its programming to present and preserve aspects of Native cultures as they were before assimilation and acculturation occurred.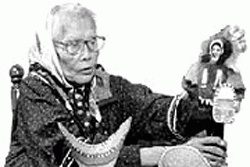 Ellen Savage; Athabaskan Elder, Storyteller, and Artist

KNBA's "Stories of Our People" and "Native Word of the Day" are two special features that KNBA produces that illustrate an entertaining way to promote values, traditions and ancient oral customs of Alaska Native peoples.

They also have another important benefit as well. They encourage the dialogue between Native elders and the younger generations.

"Stories of Our People" is a half-hour feature, produced from more than 50 hours of live interviews, narratives and storytelling, representing a broad cross-section of Alaska Native experience. KNBA broadcasts "Stories of Our People" at 8 p.m. Wednesdays and at 1 p.m. on Saturdays. These programs are also streamed live on the Internet.

"Native Word of the Day" includes 1 to 3-minute modules narrated by a Native speaker who identifies the word and its language and demonstrates the word in a sentence. A total of almost 500 words have been recorded in 13 languages for broadcast, including 10 languages spoken by Alaska Natives. The "Word of the Day" can be accessed on the KNBA Web site. It can also be heard in Anchorage on KNBA each weekday at 8 a.m., noon and 6 p.m. and in other communities in Alaska and the Lower 48 as part of "Earthsongs," distributed via satellite by American Indian Radio on Satellite (AIROS).

According to its mission statement, KNBA "provides broadcast training to advance the participation of Native people in the media; and perpetuates the heritage of Alaska Natives and contributes to the improved quality of life for underserved peoples, all Alaskans and the nation." The station is owned by Koahnic Broadcast Corporation. The word "Koahnic" is the Ahtna dialect of an Athabaskan word for "Live Air."

To become a member of KNBA, call Angela Gonzalez at (907) 258-8923.