Moderator: Tom Richards
Panelists: Guy Martin,Sam Kito,Janie Leask,John Shively
Dr. Jeanne Eder: Good afternoon. I'm Jeanne Eder, director of Alaska Native Studies for UAA. Welcome to the third of the Alaska Native seminar series. We have a lot of people here today. We have Sam Kito and John Shively and Janie Leask and Guy Martin. I'd like to thank everybody who has helped make this possible, and without further ado, I'll introduce Chancellor Lee Gorsuch for a few words of welcome.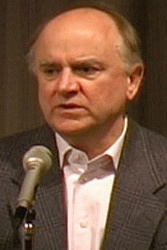 E. Lee Gorsuch

E. Lee Gorsuch: Many Alaskans are unaware of the true significance of this piece of legislation. Not only was it a landmark nationally in terms of how the United States government dealt with Native American people, it also had profound implications that reverberated around the world, most particularly in Canada.
Of small businesses that start up, usually 50 percent fail. The chances of taking 200 some Alaska Native villages that were spread over the equivalent of 20 percent of the land in the United States and expecting them all to be successful was a pretty bold and courageous presumption. The idea of selecting more than 40 million acres of land for people who had assumed they had the perpetual right to use it without any notions of ownership was a pretty strange and foreign concept. The notion of somehow creating a subdivision of the surface of the land and its subsurface was also pretty weird. It created enormous confusion, in some cases conflicts. Time won't permit us get into the full details of the enormous complexity, the politics, the victories and the failures that have gone into this enormous social experiment, but we're hoping to learn a great deal more from people who were actively involved in its formation and implementation. I'm hoping that students at the university, as well as those of you who have been veterans in this important piece of Alaska's history, will take time to put your thoughts in writing, to share your Alaskan legacy to recite the enormous importance this particular piece of legislation, and to know how important it is to the Alaska Native people themselves. I was back on the East Coast, and I took the opportunity to call upon a number of my friends in New York for assistance. I asked them to think about what it would be like to be a Wall Street banker or investor or lawyer who suddenly discovered he was going to receive 44 million acres of land, provided he came to Alaska and learned how to subsist off the land for the next two years. He'd probably wonder what subsistence was. Well, for many Alaska Native people, the idea was: you're now an American corporation and you're responsible for making profits from the land. They too had this quizzical sense of what corporations were. If you were the New York investment banker, where would you turn, to get a clue? Who could you trust? Where would you turn? How would you learn? I don't think we can understand what it was like to suddenly become a participant in American capitalism, with high rates for small businesses failures, unless you put it in the terms of that New York banker and how foreign the subsistence lifestyle would be to him. That doesn't even begin to get into the enormous complexities of land selections, capital formations, who is going to be a shareholder and what have you.
Janie and Tom have been intimately involved in the different dimensions of this significant piece of legislation. A number of them continue to play very active roles in its implementation. There will be opportunities as each of the panelists conclude their presentations for each of you to share your observations or ask the panelists any questions you might have about their presentations. It has been a treasure to have over these four months a collection of the principal architects of what is continuing to unfold as an important piece of Alaska's history. So, welcome to all of you to this third seminar and thanks again to Janie and Tom and Edgar and the others who worked so hard to put this seminar series together. Again, welcome on behalf of the University.
Dr. Jeanne Eder: Okay. I'm going to turn it over to Tom, and we'll get started.
Tom Richards: I'd like to thank the University, Chancellor Gorsuch, Dr. Eder, the Native Studies Department at UAA and Irene Rowland and Edgar for keeping us motivated and getting this series underway and moving. I'd also like to thank and acknowledge Chuguch Alaska Corporation, which will be hosting the reception following the seminar today. Today's seminar is dedicated to Laura Mae Beltz Bergt Crockett. Laura was born in the mining town, which is now the village of Candle, Alaska, on October 1, 1941. Her father was Bert Beltz, Sr. Her mother was Fredericka Rich Beltz. Laura attended Kotzebue Day School, the BIA School in Kotzebue, and she went to high school at Mount Edgecumbe Boarding School where she met many folks from throughout Alaska who became involved early on in ANCSA. During her summers she babysat for Tom Richards, Jr. and his siblings. After graduation from Mount Edgecumbe, she married Neil Bergt, who was then a bush pilot for Alaska Airlines. They had four children, Michael, Deborah, Karen and Brian, and they moved to Fairbanks in the early 1960s. She became involved in and helped organize the Tundra Times newspaper. She was a very good friend of Howard Rock's. She was involved with the Fairbanks Native Association and pretty active with the Republican Party in Alaska. She served as the National Committee Woman for the Republic Party. She was extremely involved with events and issues leading to the settlement of the Alaska Native Claims. She was a member of the National Council on Indian Opportunity, chaired by Spiro Agnew, and she helped introduce the AFN leadership to the Nixon administration, and she assisted with efforts that resulted in President Nixon's support of the AFN position on Alaska Native claims.
I'll tell a brief story. We've got a lot of area to cover today. As a lot of folks might remember, Laura traveled quite a bit. She was in the airline industry for a long time, and she was always the last person on the airplane no matter where she went. In June of 1970, I was in Washington, D.C., and she was coming to Washington for a National Council on Indian Opportunity meeting. My mother had asked her to bring me some fresh muktuk that mom had gotten from Point Hope, so the last stop on her way to the airport was at my parents' house. She picked up several pounds of muktuk and threw it into her luggage, then she made the airplane -- but her luggage didn't. I think Northwest Airlines was very motivated to find that piece of luggage. It was a little bit aged by the time it got to Washington, but it was real tasty.
Until this morning, I hadn't seen our first speaker in 30 years. I told him he looks better than he did in 1972. Guy Martin came to Alaska in the late 1960s. He was involved with Democratic Party Affairs and with the legal profession in Alaska. When I met him, he was a legislative assistant to Congressman Nick Begich who played a key role in the enactment of the Alaska Native Claims Settlement Act. Guy has served in numerous capacities for both state and federal government, and he is currently in private practice in Washington, D.C., specializing in natural resource law. It's a pleasure to welcome Guy Martin.