Originally from the village of Angoon, Albert Kookesh was appointed as Special Assistant on Rural Affairs by Governor Knowles in 1994. In 1996, Kookesh was elected to the Alaska House of Representatives under the Democratic Party. He has served on the Board of Directors for Sealaska Corporation and The Alaska Federation of Natives, both as a representative and as the Co-Chairman of the Board.
Albert Kookesh: I started school in 1969, which was three years before the Claims Settlement Act was passed. I stayed here another two years, or a year after that. I graduated in 1972, and then I went to work for Tlingit/Haida Central Council as the education coordinator. I handled all of the scholarship programs for southeast Alaska for Native kids on southeast Alaska. I worked there two years, and then I went to law school.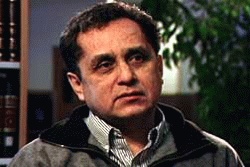 Albert Kookesh

Sharon McConnell: What was the atmosphere like during those years when the Claims Act was passed and right afterwards?
Albert Kookesh: To tell you truth, when I walked up the steps when they were signing the bill in 1971, I had no idea what they were doing. I don't know what the atmosphere was because I was so young that it didn't even dawn on me that something like this was going on. I was really naive. I think all of us were. Edgar Blatchford was there, Rosita Worl. We're intimately involved in the Native Claims Settlement Act right now through AFN and other work that we do. We never discussed it as students and there were about 30 Native students there at Alaska Methodist University then. We never discussed it; we didn't know it was happening.
Sharon McConnell: What motivated you to get involved?
Albert Kookesh: My first hand experience was in enrolling in ANCSA. That's the first time I knew what ANCSA was, when we had to go enroll. My father called up and said, "You need to go down and enroll to the village corporation of Angoon," and we went down there. My wife's an Athabaskan from up north, and she enrolled to the village that I enrolled in. We didn't know that she could or couldn't do that, so she enrolled there with an objection in my village. We found out later that she could, that the wife could follow the husband, or the husband could follow the wife if they wanted to. That was my first involvement with ANCSA, enrolling right after the Claims Settlement Act.
Then, after that, I decided I was going to work for a year and go to law school, because I started to see the movement among the Native community, when people started getting excited about ANCSA. I remember growing up hearing about land claims in southeast Alaska. The Tlingit/Haida people had a case for 35 years, and we always had heard people talking about land claims. Not because they were looking for a final amount of money, they were looking for the land. Hearing about that while I was growing up, and then after I finished college, I realized this might be a possibility.
Sharon McConnell: What do you think the promise of ANCSA was 30 years ago, and has that promise been fulfilled?
Albert Kookesh: When I first started thinking about it, to me it was always about the land. It was never about money, it was never about scholarships, it was never about cultural activities, it was never about non-business issues. It was always about the land. When I was growing up and heard about the Land Claims, that's what it essentially was about. "Land Suit" is what the old people used to call it. Now I've thought about it as that. It was more to do with the land than anything else. I remember one of the elderly people in Angoon saying that we want people to take care of the land. We want to do this for the land so our people will have some place they're not going to get kicked out of. I think that's what it was for me.
When you eventually come down to it, we wanted to have, not so much a reservation, but something we could be tied to. In the Tlingit culture you have a tribal house in your village. Of the man and wife who are living there, the man usually lives and controls the tribal house, but if the man dies, the wife has to move out. So, in the Tlingit culture, people are thinking that if we don't have title to the land we're going to get kicked off of it eventually. That's why people in southeast Alaska worked so hard to get some kind of settlement to the land. Willie Hensley mentioned earlier, 35 years before anybody else in Alaska was thinking about it, the Tlingit people filed suit in the Court of Claims.
Sharon McConnell: What do you think were some of the unintended consequences of the Claims Act?
Albert Kookesh: One of the biggest problems was shareholder expectations. When it first happened and the Urban Corporation was able to give out $1,500 to their shareholders, and the village corporations didn't do that because they didn't get the kind of money the urban corporations got, they developed huge expectations that dividends would be coming through the corporation. That has prevailed for a lot of years. In southeast Alaska, during the time of the timber growth spurts sold through the village corporations, the biggest problem we had was peoples' huge expectations of economic benefit. I think that was one of the consequences. Even our elder people, who were talking just about a settlement for the land, didn't realize that there was going to be money coming in, that people were going to fight over the money.
Essentially, people started saying, "This corporation only means money to me and I want everything I have now. I want to have it before I die." They didn't realize that, many years ago, when our elderly people said, "I want a settlement for my grandchildren," that those people, when they spoke about their grandchildren, meant grandchildren forever, not just for one generation. Unfortunately, we have people now who think that the settlement was for only one generation -- the one that was alive in 1971.
I think that was an unintended consequence, because I really believe in my heart that the settlement was for us, forever, for those grandchildren and grandchildren still coming, that the land would be available. Those of us who were stewards of the land would be able to take care of it and keep the corporations alive, so people could continue to benefit forever. I think that was what the elders thought and wanted to have happen.
I remember Roger Lang saying one time when we were having a huge shareholder uprising in southeast Alaska, "I miss the good old days when shareholders were our friends and Russia was our enemy." You know, it was the other way around because of people's expectations.
Sharon McConnell: How do you think the Claims Act has changed Alaska, particularly Alaskan Natives?
Albert Kookesh: One of the most profound effects on Alaska Natives is the way people look at us. We used to be a non-player in Alaska. We were not recognized; we didn't have much to contribute to the state when the Claims Settlement came in. If you look at the figures from the 1999 report on the 12 regional corporations and three village corporations, we gave more to charity than the entire amount for United Way in Alaska in 1999. The native community did it. Also, in 1999, we gave $5.1 million in scholarships, with all the regional and village corporations. Byron Mallott was the one who said that this Act was not just an act for Alaskan Natives, it was an economic boom for Alaska, and it continues to be. I really believe that.
10,000 people in the State of Alaska are employed by regional village corporations, and they made $2.1 billion dollars in 1999, after tax revenue. $2.5 billion in assets belong to the corporations. Alaska would be an entirely different place without the Native corporations.
Not only that, there are other consequences -- The Alaska Native Health Hospital. If you look at Alaska Native Medical Center, but for Alaska Natives it wouldn't be there. Because of the Alaska Native Claims Settlement Act, we could finally stand up and put our money where our mouth was. We were able to achieve some of those goals that would not have been possible otherwise.
Sharon McConnell: In your current capacity as co-chair of AFN, how do you perceive the upcoming years for Alaska Natives?
Albert Kookesh: I've seen a swing in the pendulum from corporations back toward tribes and there's nothing wrong with that. I think that's great, because in the first 30 years of the Claims Settlement Act, we concentrated on corporations. The leadership went into the corporations, the money from the corporations helped develop new leadership, the money helped develop other people who became professionals in Alaska, and we kind of neglected our tribal background, our cultural activities, our dances, our songs. Now that we can afford to do what we're doing, we're turning the pendulum around, and we're swinging back toward tribes.
Witness in Alaska the agreement between the tribes and the governor of this state, recognizing tribal rights. Going back even a little bit further with Ada Deer, recognizing tribes in Alaska, officially. Those kind of things tell me the pendulum is swinging back.
We've done everything we need to do in the corporate world to the extent that everything is stable. Now we're going back and working with the tribes and the tribes are exerting leadership to the point where they're saying, "We want to be a player," and they are. They're a player. All of us now are tribal members. We have tribal cards that say we're tribal members, and I think that we're starting to spend money on cultural activities. In southeast Alaska, every two years we have what's called a cultural celebration. Last year we had over 4,000 dancers -- a huge amount of people coming back. We're starting to see money go to cultural activities, such as teaching the songs, teaching how to tell the stories, teaching the language again. For the next 30 years, at least, we are starting to look at the other aspect of our life, which is the tribal side, because it's important too.
Sharon McConnell: What's one of your most vivid memories of the early years after the Claims Act was passed? Is there a certain story about a person or event that pops up in your mind that you could share with us?
Albert Kookesh: I remember my father sitting down with me one day and telling me how in Angoon, a little town of 500 people, they would walk around door to door and take donations from people -- one dollar, five dollars, two dollars -- whatever people could give. They were all contributing toward the Alaska Native Claims Settlement Act. I didn't know anything about it, but that was one of the stories that impressed upon me how important it was to a lot of people besides the people who were working on it. Everybody in every village gave a dollar or two dollars or five dollars and it went into a pot for the people going to D.C. I know there wasn't much money back then, but it's interesting to me that they were able to bring the Native community together as strong as that. I was thinking to myself, they were able to accomplish something and we haven't been able to do something like subsistence, which should have been an easy accomplishment. Sometimes I think to myself, maybe we should go back to Emil Notti and Marlene Johnson and John Borbridge and sick them on the state and have them go after that subsistence issue. Maybe they can find a way to resolve it because those of us who are in leadership positions now feel a little bit inferior sometimes when we know how much they accomplished with the Native Claims Settlement Act.
Sharon McConnell: Do you have any final comments?
Albert Kookesh: I think the strongest asset we have now are those people who are getting the $5.1 million in scholarships. We're educating the next generation of Alaska Native leadership. There are younger people like yourself and Dawn Dinwoodie and those people who are going to be taking the reigns in the next couple of years. I remember Roy Peratrovich one time said to me, "The job of leadership is to develop leadership." I think that's what we're doing. I really believe that the next generation is going to be smarter than we are, they're going to be better educated than we are, they're going to be more sophisticated than we are, they're going to be more politically astute than we are. They're going to be better prepared to take on the problems that we are trying to solve today, and I really feel those people are going to step up and in 30 years we're going to be talking. We're going to look at them and see what they accomplished. I think they're going to accomplish a great deal.
Sharon McConnell: As we look at the future and we talk about our youth, what kind of future are they going to have? Is it going to be harder for them?
Albert Kookesh: I think it's going to be easier for them, but I think some of the same questions will be there. I thought that if we had taken care of racism in Alaska when Georgiana Lincoln stood on the floor of the Senate and so eloquently said to the Senators, "I need your help to eradicate racism in Alaska." Thirty years later, and it's still here. Witness the paint ball incident in Anchorage. Witness the civil rights commission up here taking hearings.
I think some of these problems are still going to be there. I think it's our job to equip them better, to make sure corporations are financially secure, so they can have the kind of training and money they need to solve the problems we're not able to solve. I think it will be a little easier because they'll be better educated, more sophisticated, have more money and more political power, hopefully, but I think some of those same questions will be there.
Sharon McConnell: You're very well recognized here in the State of Alaska because you work in politics and also with the Native community. Personally, what has the Claims Act meant for you?
Albert Kookesh: I think I was one of the beneficiaries of this Act. But for the Claims Act, I would have never achieved so much. I got scholarships that put me through school. I got the kind of support from Alaskan Native leaders like Marlene Johnson and John Borbridge that helped me develop into the person I am. I got leadership help from Roy Peratrovich and others at Alaska Native Brotherhood. I really believe that Roy and Marlene and John did their job to develop leadership, that I'm a product of that effort. I think that the good I do is because of them. I really feel that. I need to do my job to develop the leadership that's coming up in southeast Alaska to make sure that the leadership, when I step away, can do a better job than I've done. I think I'm a beneficiary of the Alaska Native Claims Settlement Act, and I owe everything I have in my life to those people who came before me to make sure the Act was passed.