Landmark land claims legislation passed in 1971 has literally shaped my life, and it has forever changed the Alaska Native experience. The act we succeeded in creating in 1971 has been only the beginning of a very long journey.
So much has been written about the Alaska Native Claims Settlement Act (ANCSA) of 1971 that we sometimes lose sight of what drove us on in the late 1960's. It was the land and the very tangible threats to our ties to the land.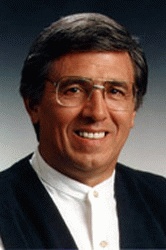 Byron I. Mallott

Our efforts to achieve business success — and the power that gives us in Alaska, the place at the table — have taken a tremendous amount of our energy over the last 30 years. Some of our corporations have now succeeded beyond our wildest dreams, and some are still struggling even to survive. But at some point that success alone is going to become hollow for Native people. We're seeing some echoes of that already. People are going to want these institutions to make powerful, substantive changes in their condition — not economic condition, but in the way they view themselves and the way these institutions are utilized on their behalf. Right now we're big, huge economic engines, but to most Native folks, with what they're wrestling with on a daily basis, it's largely irrelevant.

In other words, there's a lot of evolving for ANCSA to ultimately be what I think the village folks who started it wanted it to be. And I was there, and I was listening. I was in Bethel. I was in Tanana. I was in Southeast. I was in Cordova. And the mantra, powerfully felt, was that we must preserve the land for Native purposes. There was no talk about big money and Native corporations. Much of that came from the state and the oil companies. Some of us were very nearly seduced by it.

The state's mantra was economic development. But I don't believe that's ultimately what Native folks in the villages were thinking about. They were thinking about Native land as Native land and preserving it for future generations for reasons that far outstrip the economic use of land. So I think ANCSA's got a long way to go yet. And it will be driven by us. We're the ones that have to make those changes.

I have a deep sense of hollowness when I think about ANCSA as a vision very much unfulfilled. So the notion of ANCSA as a living document, as evolving, not just in terms of its statutory regime, but in terms of how we view it, is what gives me hope. It isn't the hollowness of despair. It's the hollowness of anxiety — whether we have it in us to really achieve what the elders and the village people and the leaders felt we could achieve.

That anxiety is fueled by the very real problems we have throughout much of the Alaska Native community today, but my hope comes from the fact that even now we still have nearly all of the land we were granted in 1971.

As we look to the future and search for the path of our journey, we ourselves need to sit down and say, "Who are we? Where are we going? What do we want?" Let's look to the year 2050 with a vision of healthy communities, a rural Alaska that is alive and vibrant. We have to put our emphasis on economic development out there. Our children have to have access to quality education that is responsive socially and culturally. In the year 2050, our vision must be that we live with self-esteem and pride because Alaska society and its social policy respects who we are. In the future, we must be recognized not as separate, but as being different and therefore making the whole of Alaska richer by our being here.

Certainly, the future of ANCSA has to be part of the development of that vision. And to me, it would be a big part. Where does ANCSA fit? Is it just an economic tool? ANCSA's been a real dichotomy. ANCSA overran our leadership in many ways. It parked the elders on the sidelines in some powerful ways. We paid homage to them, and we used them and listened to them when appropriate, but the exigencies and the urgencies of making ANCSA work essentially ran over everybody, including ourselves. Every time I see an ANCSA annual report touting dollars, I'm very ambivalent, because that's not how our lives should be measured. It's not how people should view us.

And yet, in my reading of history no racial minority will ever survive for long in a capitalistic society without having economic power or at least an economic ability to survive. And ANCSA gives us that, so therefore it is very, very meaningful. I view ANCSA as very much an unfinished vision. What we've undergone is a logical step, given the way ANCSA was structured. It's very much just a step, and we've got many more steps to take. It was an incredible journey built upon all of the things and more that I've just discussed. It was an attitude that this thing was possible, even though it was huge and had never been done before.

As Alaska Native people we're still held together in many ways by ANCSA and the values that were anchored in law and in our consciousness and in our conscience during that period. And it gives us hope for the future. It has created a leadership cadre that's very experienced and now, I hope, approaching 30 years after the act, endowed with some wisdom in addition to just experience. All of that is powerful, and it's potent, and it's going to be necessary to keep us together as Alaska Native peoples. It isn't going to be the ANCSA structure, it isn't going to be the ANCSA institutions, it isn't going to be the ANCSA money. It's going to be the spirit and values that caused ANCSA to have taken place, to be achieved in the first place that are the incredible legacy of ANCSA. To me, that is what will secure our future as the world changes.

Looking at it very narrowly — in terms of our own Native interests and values, harking back to the time of ANCSA — there have been many, many disappointments. It's as much coming to grips with reality as disappointment because there's not much about this that we could have changed. Forces were in play. The way the world works. These were just realities we should have anticipated. And we were not able to because we didn't know how to. We didn't even know what questions to ask, let alone what kinds of answers we were seeking.

In the context of ANCSA , our own expectations were incredibly high. We were going to change not just the face of Alaska, but America. It was to be a bold new social experiment. Today, we're still a people with incredible pathology. We're still a people with incredible difficulty. We're still a people still trying to find our place in society. We're still a people in Alaska whose place is uncertain. We're still a people in Alaska whose land is under assault — witness subsistence. And so there is much unfinished business that comes with ANCSA for Native peoples. What lessons have we learned that will help us in the future? What are the touchstones? What are the building blocks for continuing success of Native people? Not ANCSA. ANCSA's just a tool. ANCSA's just something that happened in a given point in time. ANCSA was very powerful and timely, but it is only one step, even if a significant one, in a very long journey. The corporations must be used as tools for our future, as opposed to instruments to determine our future. They must be guided by our values and our spiritual heritage.

We have today in the Alaska Native community a range of issues and opportunities and conditions that in the aggregate are just as important or more important than ANCSA because they are still in my judgment ANCSA and the dream of ANCSA unrealized. And there's no central focus. There's no imperative that allows us to create the kind of energy and the kind of enthusiasm and the kind of sense of ability to succeed that was there in ANCSA. What we have to do today is to think through that and see how in today's context, today's circumstances and the society of today, we can address the range of issues that are "ANCSA unrealized" and get the same kind of energy and the same kind of focus. I think that that's the challenge today.

A different version of this article will appear in the book One Shining Ray. The book is to be published in late 2001. Photo of Byron Mallott is courtesy of Sealaska Corporation.