Edgar Blatchford: Thank you, Dr. North. The original schedule was that there was going to be no schedule, that we didn't want any formalized speeches, that Dr. North would just walk amongst us here and that we would just have our nine dollars worth of cookies.
But what I thought we might do -- and this is kind of an evolving agenda -- is ask Irene to say a few words about what it was like back then.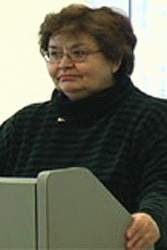 Irene Rowan

Irene Rowan: Thank you, Edgar. First of all, I would like to pay tribute to those that have gone before us by a moment of silence.
(silence)
Thank you. It's not often that we, as Alaska Natives, get a chance to say thank you for things that have happened to us, that have bettered our lives. Today, I do want to say thank you to the Willie Hensleys, to the Byron Mallotts, the Emil Nottis, to all of you who have contributed so much to the welfare of the Alaska Native people.
In the 1960s, when I graduated from college, I decided I would like an adventure and so I went off to Bethel, Alaska, to teach school. Growing up in southeastern, I thought hey, Alaska's the same everywhere you go, right? I didn't expect the tundra. Coming from a land of trees to find the one tree called the Bethel National Forest was a real shock to me. But, I survived and in that time Willie Hensley came to the community of Bethel to talk about who owns the land in Alaska. It was very, very exciting, and what did I do? Well, I got involved in the senatorial campaign, and I backed a man that I thought and I believed, and he did, support the Alaska Native people in their right to land. So that's basically what I did. Thanks.
Edgar Blatchford: I'd like Willie Hensley, Albert Kookesh and Julie Kitka, and someone I consider to be our leader, Emil Notti, to say a few words.
I remember those days back in the late 1960s. The Alaska Natives had claimed all of Alaska, parts of Canada, half of British Columbia, all the Yukon Territory and parts of the Northwest Territories, so it was a very exciting time. Albert Kookesh played basketball for the AMU Vikings, David Sam from Sitka was here, and you know, the number of people still in the state from that class of 1969, 1970, 71, are still here. If Byron Mallott would come forward and say a few words, I think we'd appreciate it. I figure if we give Byron Mallott three minutes, we'll get out of here by midnight. That's a joke.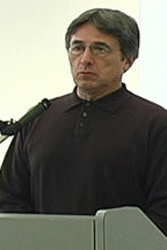 Byron Mallott (APU)

Byron Mallott: Thank you. As I was walking up the walkway of this incredibly beautiful building, I closed my eyes for a moment, but just for a moment, because I'm at that age where if you close your eyes, you stumble instantly. I tried to think back to what I was thinking then. In many ways it wasn't profound at all. It was just a part of the process that so many had been involved in for both a very long time and a very short time.
You know, land claims didn't begin with that generation of the '60s. It was there for a long, long time. There had been specific legal settlements at least in southeast Alaska. There had been discussions about the issue in other regions of the state over the years. And it all came together in the '60s, but it was really a century-long process. While there was a sense of finality for the bill that was about to be signed by the president of the United States, there really wasn't a sense that something was over. It was more a sense that things were just beginning, and as a matter of fact, that was true. I don't think any of us knew where this settlement would take us. We knew nothing about corporations. The whole notion of implementing ANCSA was an issue that in many ways led us to question even where to begin let alone where this whole thing was going.
But just a couple observations, when I said that there was, I thought, a general sense of tentative finality, I don't think any of us thought that ANCSA would become the living document that it has become. That it has been modified many, many times – not just in minor ways, but in substantive ways, and I believe that more substantive change to ANCSA is yet to come in ways we can't even imagine, because our future as Native people is still evolving and being shaped as we speak.
Also, in many ways, ANCSA benefited other Alaskans as much as it did us. In some powerful ways, ANCSA was an Alaska economic investment act. I don't think any of us should ever forget that, and the benefits and the economic impact and the consequences of ANCSA have in the main been very positive for the state.
For Native people themselves, in some ways ANCSA was and is a mixed bag. The tools that it provided us by way of corporations, the fact that we were made shareholders in corporations with all of the values of those economic institutions, I think for a while led us down paths that none of us really would have taken ourselves. What has been profound to me has been the way Native people have taken that whole thing, ANCSA, and reshaped it over the years and made it one of just a number of tools that will advance our future.
In closing, if I recall, Emil, Willie and the others who were here, that wall wasn't there then, was it? No, this was just a big open space all the way to the other end of the building? Yeah. And if I recall, the disembodied voice of the president of the United States came out over some speaker back in that corner as we were all listening, and Charlie Edwardsen was ranting and raving about how we shouldn't accept this thing and in many ways, Charlie is a seer and a very profound person.
This wasn't really a celebration although we kind of call it that. It was really a gathering of AFN. We had business to do. The question was should we accept this thing or not? There was a lot of debate, even as we knew the president was signing the thing, as to whether it made sense. Thanks.