Emcees: Edgar Blatchford, Irene Rowan
Speakers: Dr. Douglas North, Byron Mallott, Albert Kookesh, Jim LaBelle, Willie Hensley, Julie Kitka, Emil Notti, Walter Hickel
Edgar Blatchford: My name is Edgar Blatchford and this is Irene Rowan. Irene is my back-up. When this idea started, about three weeks ago, we said if ten people show up, it'd be a success, and if more than ten people show up, it would be an overwhelming success. So thank you very much for coming.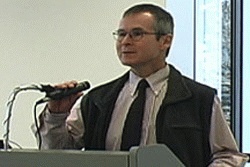 Edgar Blatchford

This is really not a celebration of the act itself. It's a time to remember all of the people who worked for the fair and just treatment of Alaska Natives, and this is a time to cheer on the next generation of Alaska Natives. We have a great number of new Alaska Natives, and I've listened to Julie Kitka talk and look at the population projections. By the year 2030, there will be over 230,000 Alaska Natives. That's a significant number, so we have a lot of work in front of us and we need to keep our spirit together.

The reason we've come here is 30 years ago, and you can see on the plaque over there, which symbolizes the fact that delegates met here in 1971, to vote on whether to accept this great, bold, new experiment that Richard Nixon signed, called the Alaska Native Claims Settlement Act. It was a big, new, bold experiment, and it's evolved into something very little, very small.

When Emil Notti became president of the Alaska Federation of Natives, he quit his job, a full-time job, to head this group of people made up of Eskimos, Indians and Aleuts. It was often said that this group would not stick together -- that the Eskimos didn't like the Indians, the Indians didn't like the Aleuts, and the Aleuts didn't like the Indians or the Eskimos. But here we are, 30 years later, still together.

When Irene announced that we were going to come back here and just see how many people showed up, we asked Emil Notti, and he said that he had nine dollars when he started this whole event. Today, billions of dollars go into the Alaska Native corporations and into the Alaska economy, and it all started with nine dollars. That's a symbolic event, so thank you very much. Irene will go around and collect the nine dollars from each of you. (laughter)

This is Alaska Methodist University, now called Alaska Pacific University. In 1969, there were 30 of us Alaska Natives who were recruited to come to this school up on the hill. There was no University of Alaska. We were recruited to work for these corporations that were way on the horizon. Two years later, people like Gary Holthaus, Dr. Davis and Dr. Davis (two Dr. Davises) and Dorek Michelle, Jeanette Brooks, a lot of Alaska Methodist University people encouraged the Alaska Natives to get involved in this idea that was on the horizon. What we did is we read newspapers, because that was the best way to get information in Alaska. We read about our leaders -- Emil Notti, Willie Hensley, Byron Mallott, John Borbridge, and a whole host of others. We read about the dedication of the Tyonek people, loaning money to this new federation of Natives called the Alaska Federation of Natives. We read about the Yakima Indians donating $250,000, or loaning $250,000.

That was us, we were observers, we were students. We had on the horizon, something that was going to be new. Nobody knew quite what was happening, we just read the headlines, read the stories, and then kind of thought this was maybe going to become a reality. A billion dollars back then was one heck of a lot of money; 44 million acres of land, a lot of land. But this is Dr. North's house. This is Alaska Methodist University, Alaska Pacific University, and let me introduce our host today, Dr. North.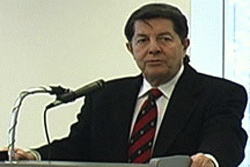 Dr. Douglas North

Dr. North: Thank you, Edgar. I want to welcome you all to Alaska Pacific University, once Alaska Methodist University. I want to welcome you to this place, and I think place is important. It was here that the Alaska Native Claims Settlement Act took place, and it took place in a very significant way, because place is important.
While money was a part of it, and while the creation of corporations was an important part of the act, the act, it seems to me, is overwhelmingly about place – about a sense of place, about a secure sense of place. That is something that what is loosely called Western civilization or industrial civilization has been taking away from people for a good many centuries, making our lives less located in place and maybe more involved in movement from place to place.
I think it's very important and very appropriate that we're all back together in this same place again -- that you are back in this place where it happened. At this time, exactly 30 years ago, the sun rose in the same place on the mountains behind me, because it was the same day. Everything in terms of our world was the same, and a momentous event took place here.
We who were not here look forward to you who were here talking with the enrichment that a sense of place gives us. When we sit in a place and recollect things that happened there a long time ago, then it's not just a thought, it enriches us. It brings us there with our full bodies and emotions and our place. Some very wise people sat in this room and heard some very good news 30 years ago, and I look forward to hearing what kinds of things you have to say now, 30 years later, and I thank you for even letting me be present here in this place now.
So welcome to Alaska Pacific University and this celebration of place. Thank you.