I started a playgroup for both boys when they were about eight months old. Some kids moved away and others joined, so it was fairly small but consistent. When Max was three, we started organizing one structured activity (painting, Playdough, beading) during playgroup.
When the group turned four, we moved into a preschool experience. Moms would drop their kids off and one mom would "teach" for three hours. We set up a structure for the three hours (free time for fifteen minutes, circle time for twenty minutes, discuss the theme -- chosen by the hosting child, do a project, read aloud, and play outside). Then each parent adopted it to her own style. Max loved it! In September we'll start with Reiker's group.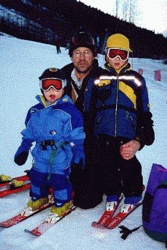 Mike, Max, and Reiker Durtschi

Girdwood is bustling with activities for kids. The Community Schools Program is an integral part of our community, and I offer classes each quarter, based on what my kids want to do. There are some regular class offerings that both boys have done since age one.

Romp and Roar is supervised gym time once a week for one-and-a-half hours. Arts Club is a cooperative activity for three- to five-year-olds (Reiker has tagged along since birth!) where a different parent directs an art project for an hour once a week. I started a soccer program for three- to five-year-olds when Max was three and am still doing that.

So, it is very easy to become over-scheduled! Add story time and playgroup to the above list and there's a planned activity every day of the week -- too much for my kids and me. We pick and choose our classes each quarter and make sure there's enough unscheduled free time to ski!